[Track] "The Movies" [Notes] Streamyard, Odysee & Spotify Part Deux
Another excellent new track: "The Movies" + more success with Odysee, Streamyard & MCM.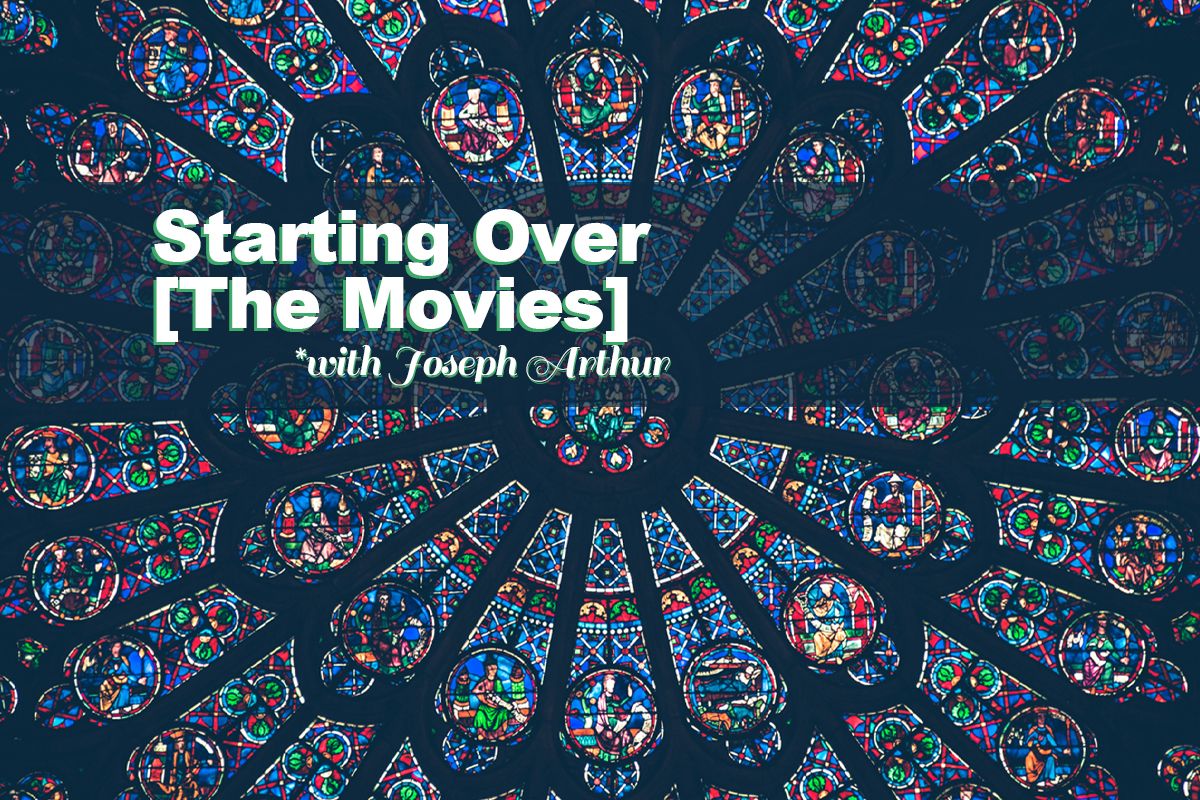 MFA is pleased to be collaborating with Joseph Arthur to release music independently without a record label or management team. We are sharing one track a week, as well as blog posts discussing various topics regarding digital distribution, marketing and recording. More about this project on The Knockout Program Gumroad page.
On Friday Joseph released another new track, "The Movies" — the 7th track and one of my personal favorites. You can watch a bonus live performance of this track when you subscribe to "The Underdog" tier of The Knockout Program.
Read more below for all that we've been up to lately.
Streamyard [Room for Improvement]
We recorded and shared our first podcast using Streamyard last week.
So far, so good. I'll share a few things I noticed that we can improve upon for the next recording:
Recording audio locally! After all that talk, I forgot to make sure we actually did this. Classic. Fortunately, the recording from Streamyard was pretty decent. During each podcast Joseph performs recent tracks he's been working on. The audio quality of these has significantly improved from past recordings. However, there's a couple clips still present, which I'm pretty sure is WIFI related and not clipping from the microphone. I highly recommend using an Ethernet cable whenever you're podcasting or livestreaming, but unfortunately that is not always an available option. I think this is probably common sense for most of y'all, but the amount of time's I nearly forgot to do it... I figured I'd spread the good word.
The podcast video was recorded at standard 480p which doesn't show the full capabilities of Joseph's camera. We'll try 720p next time — there is also an option to upgrade for 1080p video. Joseph's audio & video setup on his end is VERY GOOD. The struggle lies with figuring out how to convey that over the internet, a problem as old as time.
Compared to something like OBS, this seems to have a bit less of a learning curve and allows us to collaborate easily. More updates to come as we figure out if this will be a viable solution.
Odysee [New Channel & Embedding]
Our resident audio expert Andrew Grathwohl mastered the audio & created a video clip of Joseph's performance of "Rise" during the podcast, using ffmpeg.  I can barely use ffmpeg but it has come in handy for a lot of the shenanigans we've been up to. It's a very handy tool that I look forward to becoming a bit more competent with.
For now, I wanted to share the video in Joseph's email newsletter —  but what is the easiest way? This video sharing dilemma led me to Odysee. I, clearly, have no prior experience with video — especially best practices for formatting videos to share on social media.
For example, if I wanted to add anything over 5MB onto this blog post on my GhostPro blog, I would have to upgrade my account. The live recording video clip below is 77.3 MB.
So, I'm going to upload clips onto Odysee and embed the video, as I did above. I had been meaning to get more familiar with their platform for a while. They are another pioneer in the fight for free speech in modern times, and also I have a huge crush on Jeremy Kauffman, an excellent twitter follow and a founder of Odysee's parent company, LBRY.  
In order to make a new Odysee channel, I had to make it look somewhat presentable. This meant I needed to make a banner image as well as a thumbnail for new content and channel profile. You can use GIMP for free to make graphics you need. What size should we make them?
This can be found on the LBRY documentation:
cover photo: minimum size of 1000x160 and an aspect ratio of 6.25:1.
profile thumbnail: minimum size of 300x300 and an aspect ratio of 1:1 (square).
content thumbnail: minimum size of 800x450 and an aspect ratio of 16:9.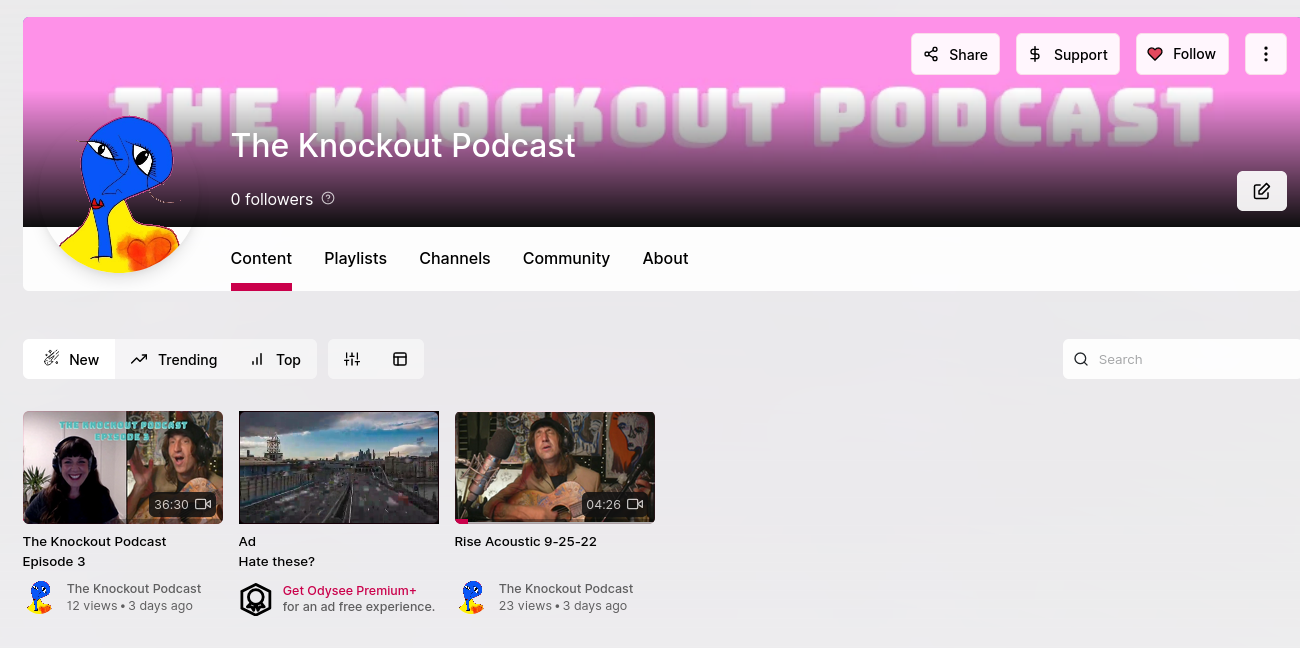 Ta-da! It looks very simple, but it is ok for now. For the content thumbnails I just grabbed a screenshot from the video & added some text on top. I'll continue to upload new videos for the podcast as they are available. I'm probably not going to upload Episode 2 & 1 video. Onward!
Here is how to embed a video after you've uploaded it to Odysee. Select the share option & instead of grabbing the url, select the <> option. Here you will find the html code which you can embed anywhere that allows you to drop in html.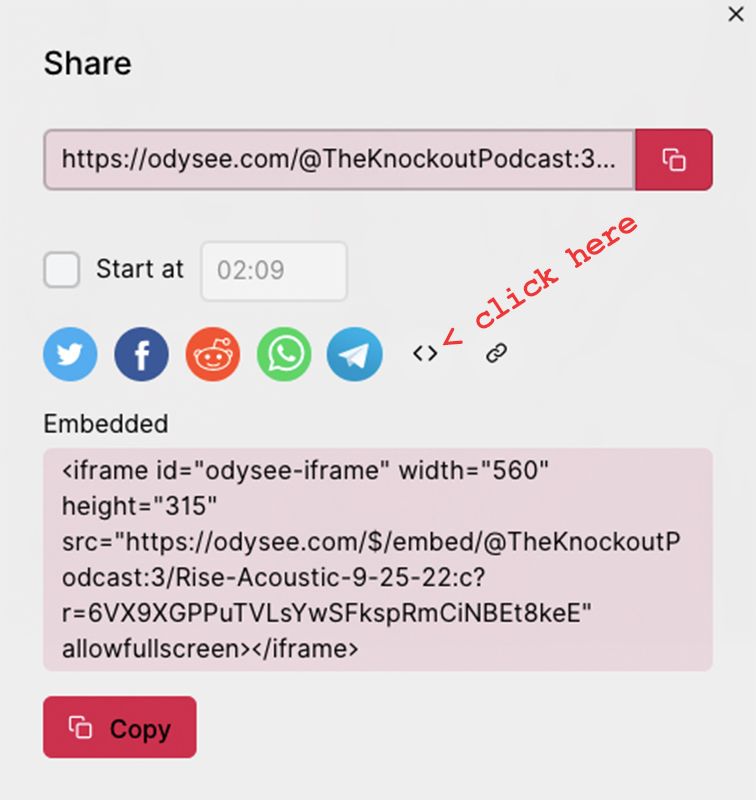 If you don't like the size, you can tweak the width and height. For example I've adjusted all the videos in this post to width="700" height="415"
Spotify Artist Account — We Did It!
I'm pleased to announce that we finally gained access to Joseph's Spotify Artist account. I wanted this so I could pitch his upcoming tracks for playlists as I mentioned last week. Unfortunately, I have made little progress outside of gaining access, but I'm thankful for any amount of progress.
While it took a while to get this approved, their support team was responsive and ultimately helpful. More on the actually learning how to pitch part soon...
Anchor
In an earlier post I mentioned that we're using Anchor.fm to host and distribute The Knockout Podcast's RSS feed. Anchor is owned by Spotify and allows you to add tracks to the end of your podcasts. Since we've been discussing new tracks on our podcast that we also distributed on Spotify — this feature appealed to my interest.
I tested this out, adding "Rise," to the end of last weeks pod just to see what happened. However this came with a bit of a trade off. Not surprisingly, adding the track would make the podcast episode exclusively available on Spotify. Also this would prompt a review process.
It's possible this is worth doing still, maybe in future. But — for now, I'm going to skip.
MCM
We've been very fortunate to have several of Joseph's recent tracks featured on Mark Crispin Miller's News from Underground Substack. Most recently he featured "American Night."
We highly recommend subscribing to Mark's newsletter if you haven't already. He regularly showcases a wide range of musicians standing up for free expression and autonomy.