[019] Amplifying Dissent with Proud Scout
This week we talked to Nashville, TN based musician Paul RK who shared his experiences navigating the music industry.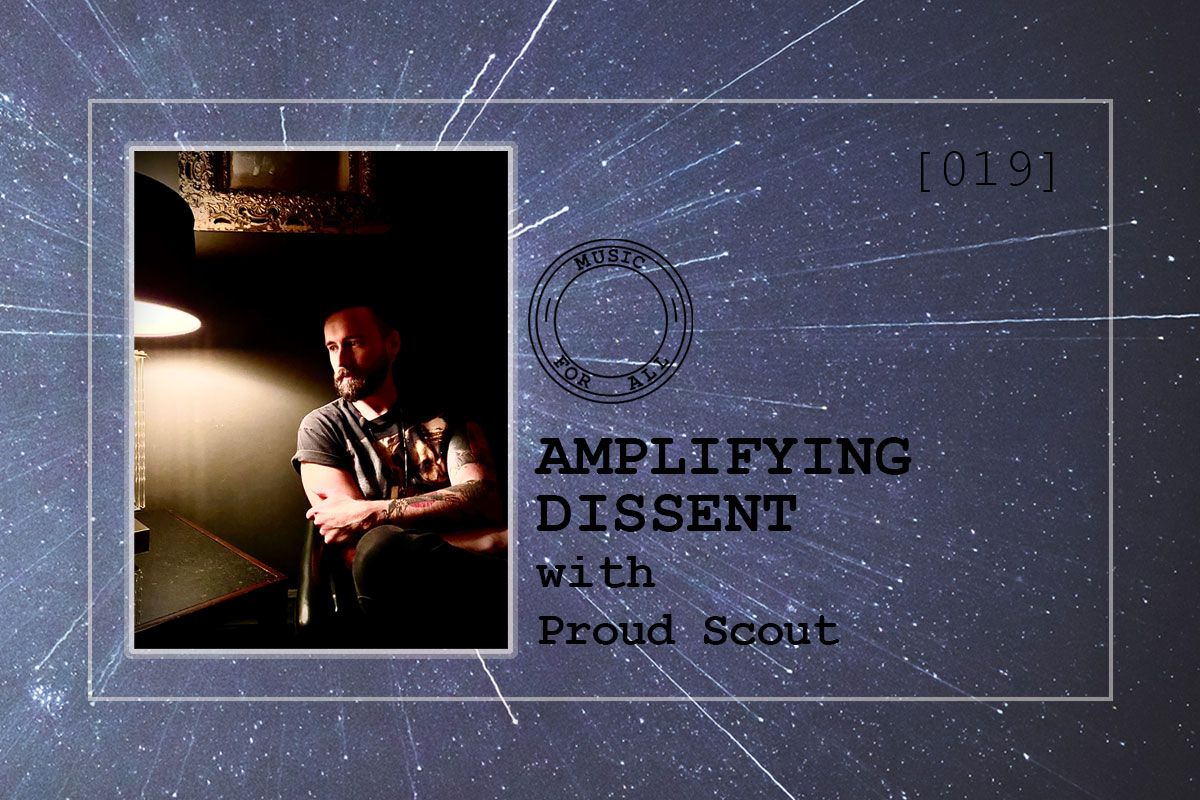 This interview is part of a series discussing mandates, restrictions and censorship with musicians and music fans—read more of these interviews here.
Paul RK is a Nashville, TN based multi-instrumentalist, audio engineer and songwriter. He's played in bands, managed DIY tours, and carved his own path in the music industry since the age of 16.
Paul is currently releasing music under the moniker Proud Scout, listen to his debut single "Sugar Rush" here:
Music For All: How did you first get into music?
Paul: I knew music would be my life's calling from a young age. In both my small hometowns (middle-of-nowhere-Nebraska and the middle-of-nowhere-Tennessee), before widespread internet access, the only connection to an outside world was the little boombox I dug out of my elementary school's dumpster with a sticker that read "broken."
The teacher who had thrown it away hadn't figured out that there was an AM and FM switch and couldn't understand why AM radio wouldn't pick up any signal. Sort of laughable now. I would ask for cassette tapes of NSYNC and The Backstreet Boys for Christmas as far back as I can remember. I would painstakingly take washcloths to clean the tiny cases, and comb over every last word in the insert. I would memorize lyrics, the associated record labels, band members, and the track times. Everything. I was enamored with how it felt like these songs and messages were "larger than life" — Backstreet Boys reference intended.
I spent most of my formative teen years toting around a massive CD case full of Prodigy and Rammstein records. That didn't exclude the obligatory Rock Against Bush and Victory Records compilations either. I went for anything, and I thank myself for having such an open mind toward music at such a green-to-the-world age.
Another majorly defining moment in my early life was sitting in the backseat of my mom's Ford Windstar on the way home from her Janitorial job at the school I attended. The sun had gone down, and I was in and out of consciousness, hearing bits and pieces of the most beautiful song I had ever heard up until that point. The song was "Kiss From a Rose" by Seal. The Batman Beyond film had just been released, and this track was getting tons of radio play.
As soon as I got home that night, I feverishly went rummaging through my mom's CD collection. By some wild twist of fate, she had the Batman Beyond soundtrack. This was especially strange because my mother is a dyed-in-the-wool country music fan. Nothing but Merle Haggard, Hank Williams, Alabama, Vince Gill, Pam Tillis…and apparently the Batman Beyond Soundtrack? I've asked my mom about this since, and she still has no idea how it ended up in our house. So I have some weird cosmic feeling that the stars knew Seal would be my unusual obsession that sparked a lifetime of pursuing songwriting. I still don't think I'll EVER be able to write a song THAT legendary in my lifetime.
From those moments, I started taking guitar lessons from one of the most well-rounded and unknown guitarists (I believe) in the United States. His name is Vince Riley. A shaggy, pot-smoking male nurse who taught children in his community the basics and importance of music in his free time. Having grown up in California, his guitar teacher was the legendary Jennifer Batten  — Michael Jackson's touring guitarist for a brief stint.
When he wasn't caring for elderly patients during his working week, he'd fly to sit in with Eric Clapton, Joe Walsh, and Steve Vai. I'd say this would've been totally unbelievable, but he had photos upon photos of him rubbing elbows and chumming around with some of the best to ever touch the instrument. After giving me homework assignment after assignment in music theory, I'd show up having learned the entire song by ear. I would fake my way through the lessons, and he'd ask, "See, you spent all that time listening to the song to learn it but still don't know how to play a scale?"
That still rings true today. I'm void of theory and have only written songs how I hear them in my head. I'm sure I was simultaneously one of his worst and best students. I'll never forget one of the best pieces of advice he gave me after listening to the album Dookie by Green Day. He sat down, showed me how to play a power chord, and said, "Learn this chord right here, and someday you'll make a million dollars."
Retrospectively it was such a hilariously cynical thing to say coming from a virtuoso. Still, I have yet to see the lie...or the million dollars, but that's beside the point.
By the age of 13, I had attempted to start my own small garage bands to no avail. I played around with weird logos and laughably bad project names. I was always the guitar player but could never seem to get any of my other Yu Gi OH! card-playing friends to learn bass or drums.
I wrote what seemed like endless riffs and vocal melodies for parody songs that have been lost to the abyss of the internet. One cleverly titled "Radio Song" was about how the radio was incessant in promoting the lowest common denominators of art and how it rots your brain. The song ended with the solution of a dragon eating and torching record execs. Sort of hefty lifting for a little punk ass kid like myself, but I look back being proud of him.
At 16, after diving headlong into the local music scene, I was contacted by friends who happened to be brothers from a few towns over in need of a guitarist. We had developed a friendship through past local shows. We were starting a powerpop group called The Hand Me Down Kids, including two members of an acoustic act from Idaho. Very fitting awful band name for its time in the early aughts.
We gained quick regional notoriety. We had write-ups and mentions in Alternative Press, the local newspaper, played countless shows, including a living room tour where we played 35 shows in 30 days, all between 2008-2010. We procured a sponsorship with the restaurant Denny's through their "Allnighter" Program and shared meet and greets with bands like The Maine, A Rocket To the Moon, and Every Avenue. Even played a few dates on The Vans Warped Tour (RIP). All while being in negotiations to record our sophomore EP to have been potentially released through Fearless Records.
It all came to a crashing halt right before our nationwide tour with a now-defunct band from the twin cities in Minnesota, Take Cover. Before leaving, we suddenly discovered that every cent we had previously made was missing. I won't speculate too much on what had happened there, but it was fairly obvious there was a conflict of interest between a particular band member and how they felt they should be compensated. It's been so long since that moment that we've all clearly moved on from the incident, but it was ultimately that band's demise.
Not weeks after we had disbanded in 2010-2012, the other guitarist and I started a political punk project called Wearing Thin. It was much more our speed. While playing those neon-laced pop songs, we'd lament the idea that there wasn't a message behind the music. We decided to start writing songs about geopolitics and its effect on our lives. Barack Obama was the president at the time, and while I had voted for him then, my first ideal choice was always Ron Paul.
I've always been staunchly against war of any kind. Especially those that were started under false pretenses. We were constantly being lied to and gaslit into believing this Neolib dude would fix our problems. Looking back, this only bolstered the libertarian and independent roots I still carry today.
We had just come out of a decade of senseless drone attacks in the middle east only to be told that "HOPE" was on the menu. As many young people did at the time, we saw our friends and family get shipped overseas to be senselessly murdered or maimed for a government and mission we didn't believe in. No matter where you stood on the political spectrum, it was all bullshit, and we knew it.
We wrote a song called "Vultures" as a commentary on the predatory nature of Army recruiters coming into our high schools. They would single out the kids who were loners. The ones who maybe appeared to be troubled. It was sickening.
I have no qualms with the decision to join the Army, nor do I feel any ethical way about the feeling of wanting to serve your country. The problems I had were the obvious empty promises the recruiters promoted to get kids to sign on the dotted line. They had no idea that it was likely they'd be coming back in boxes in a few years' time.
Lyrics from Vultures by Wearing Thin
"We kill for peace
While they prey on the weak
Pick off the dead that go faceless on sheets
Can't fight your battles
So go bribe the poor
This is the problem
The real fucking war
Human life over all"
The band Wearing Thin didn't last all too long because once we had gotten those messages out of our systems, there was no real relief. Screaming into the void can only be cathartic for so long. So from there, we agreed amicably to go our separate ways to create and produce culture in our own ways.
The vocalist is an incredible tattoo artist that resides in Minneapolis. Our bass player is now a nomadic graffiti writer and muralist. The drummer lives a quiet life somewhere in the Chicago area, framing houses and being a pillar of his community. Meanwhile, my past band mate and guitarist is raising his two kids in Colorado.
Have you experienced any backlash for your views?
We can fast forward several years to around the 2016 election of Donald Trump. I had and still have my reservations about the guy. Regrettably, I bought into the propaganda about him for a while. At the time, I was playing in 3 separate bands. I also worked at a screen printing shop, helped facilitate the public archiving of decades worth of valuable vinyl records, and booked and ran shows at a local house venue.
The owner of the house venue was the then drummer of one of the 3 bands I will leave nameless. Our goal was to create a DIY space where independent bands from all over the country could get a meal, a shower, a place to crash, and a nice bit of cash to get down the road to their next gig.
There were several bills where a specific group of kids in opening acts would show up late, demand better spots in the lineup and be overtly disrespectful to everyone. They'd make a bit of a scene, and eventually, we had had enough. We EX'd them from performing or participating in playing these shows that were growing in popularity.
We never set out to be "gatekeepers" in any way, but we were seen as such. I had a visceral response to being seen this way because they were the sort of people I had been rejected by my whole life. I wanted to mend some loose ends in trying to communicate with this specific subgroup of kids. I would reach out to a few of them to hang out, play Mario Kart, or chill and play some music.
The more ingratiated I got, the more weird conversations would play out. It was almost like an interview at times. This was before the widespread "woke cult" got their fingers around everything. At the time, if you had asked me what "woke" was, I probably wouldn't have been able to tell you. I came from a long background of being essentially an anarcho-capitalist with a populist message, and I'm brutally honest about how I see the world when asked.
These kids were self-proclaimed Democratic Socialists, which was another way of retrospectively saying they were in ANTIFA. I should have put these facts together in the moment, but even then, ANTIFA wasn't an issue at the local level yet. I figured they were just another group with weird communist book club meetings that I never attended.
These kids managed to take over the only other DIY venue in town run by a well-meaning, experienced, professional booking agent as the months went on. They essentially ousted him and his partner with a bevy of insane, untrue accusations. In a matter of weeks, the plumbing was completely ruined, windows were broken and the place fell into disarray.
Instead of shows, they had what I'd describe as gossip sessions where they would plan the ruin of people they deemed as racists, homophobes, xenophobes, rapists, etc. This quickly became cancerous in our city. Our punk scene's pillars were disappearing simply for being outspoken or unfortunate enough to have dated the wrong person with a messy breakup.
Bands were breaking up every week. Even Conor Oberst of Bright Eyes was a victim of attempted character assassination. In those days, the fear was palpable, and my friends and I knew our days were numbered. We weren't bad people, but we were a threat to the younger power structure that seemed to be steamrolling through town. I was especially outspoken on the matter, calling out those acting in bad faith to tear others down for having differences in opinion.
As predicted, I and several members of bands I was friendly or familiar with were accused of horrible things from "anonymous sources." We were all dealt with in a weird tribunal format. A friend would say something along the lines of "We heard really awful things about you. We've talked, and we can't confirm, but it'll look bad for the rest of us if you stick around." So we didn't.
We were ousted from our years of building a crumbling scene from nothing, just to have it commandeered in the final hours by those who had no intention of fostering it. As it stands now, I've had several of these people come to their senses and apologize for being so cowardly. I've forgiven them, but the ideology and damage we allowed to take hold are now unfortunately commonplace in every scene across the country.
It seeped into our lives in a way that feels like the ultimate betrayal. Like we were all lied to. The seemingly strong-willed family members around you became unrecognizable in a matter of a couple of years. Corporate shills and war machine apologists. I never changed, but everything around me did. Never back down from what you believe in, and never compromise with social terrorists.
I'm so jealous you used to live in Omaha. I'm a huge Saddle Creek fan and have always wanted to visit, but then also I can't even attend a Cursive or a Bright Eyes show anymore so I'm not sure how to reconcile that. It's also so wild to me that these bands knew Bush was bad and were so anti-war in the early 2000's, but then just like stopped caring.
My favorite watering holes in Omaha were always Old Dundee Bar off of Dodge street before it was bought and demolished, Pageturners lounge owned by Conor Oberst, and Oleaver's Pub, a little dive owned by Tim Kasher of the bands Cursive and The Good Life.
My regular bartender was Roger Lewis, the full-time drummer for The Good Life and frequents the road with Bright Eyes. It was never unusual to run into Tim or Conor on any night. They were always incredibly gracious and kind people, even in the event somebody was annoying the shit out of them. They were our neighbors, and they treated people as such.
My past albums were always mixed by AJ Mogis, the bass player for the band Criteria. We became friendly over the years doing business together. His brother Mike has been with Bright Eyes for quite some time, and they own a hometown studio called ARC Studios. It's a bit bizarre to me how much of an impact these guys had on the world of music when they were the butt of jokes we used to make growing up.
With that said, I've grown a deep appreciation for the cultural impact of Saddle Creek, even with their fair-weather Bruce Springsteen politics.
Can you share your experience as a musician — and a reasonable person — living in Nashville in 2020?
At the beginning of 2020, my girlfriend and I had been newly dating for about 3 months. I was rooming with a couple across town in the Belle Meade area while she was in Berry Hill. We'd spend nearly every day together, going to shows at The Cannery, catching movies at the Regal, trying new restaurants, and soaking in the city's culture as any late 20 somethings do.
I still hold the opinion that Nashville is the perfect city to continuously be a tourist in, even if you've had your roots here for years. My girlfriend was a designer for several bands around town and had even been volunteering her time to the "Save The Rockblock" nonprofit, trying to keep the EXIT/IN a historical landmark. Preserving the Elliston Place neighborhood from being bought and razed by developers.
I've played The End more times than I can count. It was and has been OUR city. We felt the need to foster its culture and give more than we came here with. When the pandemic shut the city down, it was like a bomb was dropped on lower Broadway — which also literally happened later that year. I had never in my life seen such an electric place be drained entirely of life.
Driving down an empty Broadway strip, paired with the juxtaposition of bright neon lights and shuttered doors without a single soul walking the sidewalks was a sight that I will never be able to unsee. At first, there seemed to be a deep sense of community. It felt like everybody was digging in their pockets, trying to find whatever they could scrounge up to help these venues survive whatever was to come next.
Even after a large population in our city had been recently laid off, including myself. It was like the people of Nashville wouldn't allow its culture to degrade to a life support situation. Music is our lifeblood around here, and for once, after all of the bullshit political back and forth that had been going on for 5 years, it seemed like a common goal everybody wanted to jump on board with.
That was until the mask mandates started to rear their ugly head. You had people who would never be caught dead in some of these places all of a sudden have some hot take on how these venues should be shuttered by the State. People who lived several states over, telling the residents of Nashville that they should just deal with the fallout of our main source of tourism revenue being paused indefinitely until we could "get the pandemic under control."
Bar owners ON BROADWAY virtue signaling from inside their businesses, taking pictures of neighboring bars to criticize them and insinuate others should condemn their practices of needing to make money to survive. LOCAL NEWS CHANNELS propping up social media posts to shame private individuals. For some, the sense of community was so easily thrown out the window when it came to whatever subjective reality they decided or were told to believe that day.
Keep in mind that this was all before the vaccine mandates had begun, so many of us were already keeping score. The same venues we fought to save and spent our lives at were the ones barring us from entering because we refused to wear a mask or disclose our personal medical information. Our home and careers were rejecting us like dirty splinters. It was a horrible time for everybody involved. There are still some remnants of these barbaric practices implemented in our industries and communities. We know who they are, and we'll never forget it.
In your experience, if you are interested in touring with a band — will they ask you for proof of vaccine prior to allowing you to tour? Is this made clear upfront or sprung on people at the last minute because it's just assumed that everyone will gladly comply?
This is a bizarre one. Having been in the industry for as long as I have, I get a mixed-bag answer with this. Some crews are adamant and upfront about demanding you need the poke. Others are more covert. Almost like they just assumed everybody had already fallen in line. From the listings I've seen, it seems to be up to the artist's or manager's discretion. In an effort to save face, the listing will be your generic "Stage Hand Wanted" and only provides details of job duties such as "Must be on time for bus call, Must be able to read a production day sheet, Must be willing and able to constantly lift 50+lbs...Oh and also PROOF OF VACCINATION".
I'm sure it's always been vague, but hey, wouldn't you think you'd be willing to disclose who you're hiring for if you had such a strong stance on the matter? Or do they secretly know they'd be dragged to hell for being or working for such an authoritarian?
If anything, it wouldn't matter who I'd be potentially working for if they demanded it. If I'm vaccinated or not has no bearing on whether or not I can perform my job. If you, as a manager, seem to think so, I already know what sort of hell you reign onto your employees. No thanks.
Who do you think is behind these ridiculous policies? Do you think it is actually the band member's sincere wishes — or more due to pressure by fans, promoters and/or the venues?
Let's be honest here. Who likes wearing a mask? If you've answered "nobody," I have a feeling you'd be correct 9/10 times. There's always wiggle room for the masochistic poly gendered gimp. More power to them. If most bands had it their way, I feel they'd have nixed this weird policy over a year ago. It should have always been a personal choice.
You assume the risk of literally anything happening to you once you set one foot out your front door. Venues have been using this "federal mandate," which isn't even law, and can't be enforced like one, to cover their asses in the event somebody might sue for damages.
It's not about health OR safety; it's about their bottom line. It's about how a small minority of internet clowns can rally their sock accounts to make them temporarily look bad. It's a mixture of cowardice and willing ignorance from venue owners and pathetic clout chasers who feel like criticism is next to death in its severity.
You'll get the occasional band member who's off their rocker, but more often than not, they won't be the one wearing a mask while performing. Why is that, do you think? Is it really about safety then, or is it just someone who likes to tell other people what to do? We should just stop listening to these people altogether.
I talk about this a lot, but it's so crazy to me that indie labels in particular are increasingly unwilling to release music from anyone who isn't ideologically aligned, which will inevitably lead to their downfall. What has your experience been as an indie artist in the current climate?
I'd be lying if I said that labels or anything artistically related weren't constantly pushing the envelope in the "woke" area for my entire career as a musician. Even before this shit became so prevalent, there's always been an err of intellectual superiority from these types. They think regurgitating some made-up doctrine makes them sound smart because nobody else knows what the fuck they're talking about. That is unless you yourself have bought hook, line, and sinker into the bullshit they're pushing. Then you're just a fellow cultist at that point. But you're able to talk in circles with each other like a couple of coke heads, thinking you're really onto something.
I write apolitical pop-rock songs now. I love it. But I'm no stranger to the perceived problematic nature of not trying to be "problematic." The current industry makes it seem like everybody is foaming at the mouth, waiting for some salacious lyric or message. It doesn't make me brave to dick around and write love songs. It's just my creative outlet. I could sit here and tell you how I wanna change the world with my music, but holy shit, that sounds boring.
It seems as though every new band I'm seeing pushed by these labels I used to respect has some sort of political message. "This song is about how much I hate nazis, fuck them!" Well, my songs are about damn near nothing, including some platitudes. I hope you enjoy how it sounds.
Has it been difficult to find other musicians to play with?
In my experience, while living in Nashville, I almost immediately joined a surf-punk band. They needed a bass player at the time, and I wanted to join a band where I had absolutely no creative bearings on how the music sounded or how the project was ultimately run. Relinquishing power in that way was incredibly freeing for me. It felt awesome.
Not because I'm a recovering control freak or anything, I had been a primary writer in every previous band I was a part of. I love playing, and when you take the pressure of writing away, you can just ride the wave for a while. It was nice to have fun songs to play FOR somebody else. Seeing how they wanted it to sound come to life was a great feeling.
We ended up recording our last EP with Steve Albini of Shellac in Chicago ironically as soon as the "shelter in place order" came down. So the launch was more like a crash. Then unofficially, "broke up" afterward. The vocalist and drummer moved to the Chicago area, and we're still great friends. Hilariously enough, we started receiving independent label interest after we disbanded. But shhh, don't tell anyone because we may be able to release that EP after all.
Since then, the only musicians I'm friends with are currently out on the road with excellent up-and-coming acts. I've been apprehensive about name-dropping any of these bands or people. While they may align with me ideologically, we all know how the industry likes to treat those who disagree with them. But I'm always putting the feelers out there to write or hang with other musicians. As long as you're cool and not a crybaby about shit, aren't those the marks of a great friend?
Are there any musicians or venues you've found that are standing up against restrictions?
I think many Broadway venues and Nashville musicians are actively ignoring these restrictions and have been for some time. I can certainly tell who wasn't, and I've chosen to stop playing with or spending my money in these places altogether.
Musicians I know of at my caliber silently go about their business from day to day. We take mental notes and ignore the bullshit. If something doesn't make sense or I'm pressed, I have no problem telling somebody to shove it. Treat them like the lunatics they've proven themselves to be. The less weight we allow these authoritarians to carry, the better off we'll all be.
---
Thank you for reading!
See more from Paul's project Proud Scout here: