[Track] "Fascism Now!" [Notes] Lyric Videos — Part One
The latest track "Fascism Now!" + we got started on making our first lyric video... a work in progress.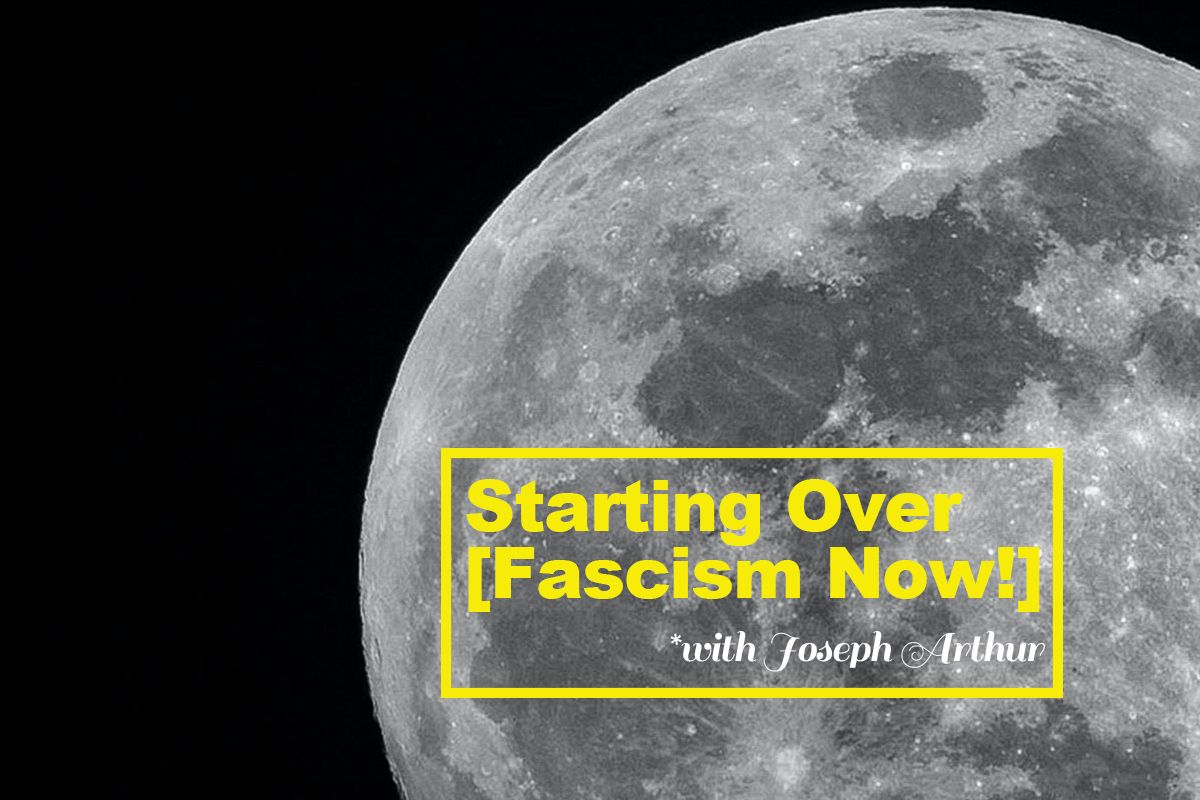 MFA is pleased to be collaborating with Joseph Arthur to release music independently without a record label or management team. We are sharing one track a week, as well as blog posts discussing various topics regarding digital distribution, marketing, recording and more. You can find more about this project on The Knockout Program Gumroad page.
This week we released another banger by Joseph Arthur, "Fascism Now!" A commentary on some of the hypocrisies within our current society. This track is heavy on the bleeps and the bloops in a way that we enjoy very much.  Listen to it here:
Also this week, I finally buckled down and got my act together to start trying to find out how to make lyric videos once and for all. If you don't have a budget for a proper music video, a lyric video is a more affordable option for a video asset. I've admittedly been dragging my feet on this because it seemed extremely difficult.
Lyrics. Videos. Efficiency. Me?!
Such a simple thing for an artist to share with their fans, but being a novice about all things video & editing — how do I make one easily? There are a lot of different ways to do this. You can obviously hire a video editor or make yourself using expensive video editing software.
But I wanted to create a solution that was scalable, that we could quickly do ourselves each week moving forward as well as for the tracks we've already released. I needed a process I could use to generate these quickly that wasn't so complicated it would make my brain explode...
We'll have to wait until next week to find out if this will actually work, but in the meantime I have a summary of my progress so far below.
LRC Maker
At first, I was introduced to Aegisub per the recommendation of our resident tech & audio expert, Andrew Grathwohl. I found this a bit intimidating myself, but I know he was able to quickly spin up a lyric video using this software.
Frankly, Andrew's guidance and knowledge of the open source software world has saved me countless hours of research and frustration. I'm especially excited to be able to share the benefits of his genius throughout this project.
It seems the best way of thinking about quick lyric video generation is thinking of them in the same way people think about subtitles. I present to you, LRC Maker:
I'm completely new to the entire world of subtitles or lyrics — but there appears to be a rather large community of people using this sort of technology to generate subtitles for Anime films as well as karaoke, naturally.  
Right away, we have clear instructions on how to get started:

#1 Add Lyrics
Alright so let's grab the lyrics and paste them into the editor page. I'm going to make one for the first track we released "The Knockout." Luckily Joseph has provided these lyrics for me, so I already have them all written out. Otherwise, this would have been our first step.
Having the lyrics in front of you already will make the rest much easier:
It's the end of the world
We can see it coming
They have most of us running
But they can't take our souls
If we come to his mercy
Where the darkness keeps us thirsty
For a love that we're afraid to know
Real salvation
Don't miss the train leaving the station

Baby
What ya gonna do with your life
They can't really ever make us fall
They can't really ever make us fall

Baby
What ya gonna do with your life
We can change the writing on the wall

It's a new day now
Letting go of the past dear
How we over come the old fear
And nothings gonna knock us down
But if we fall we'll leave no doubt
That we'll keep swinging for the knock out

And baby
What ya gonna do with your life
They can't really ever make us fall

And baby
What ya gonna do with your life
We can change the writing on the wall
We'll add these in along with some basic meta data about the track:
#2 Load the Audio File
Click the button on the bottom left corner to upload your audio file so you can listen while you sync up the lyrics timing.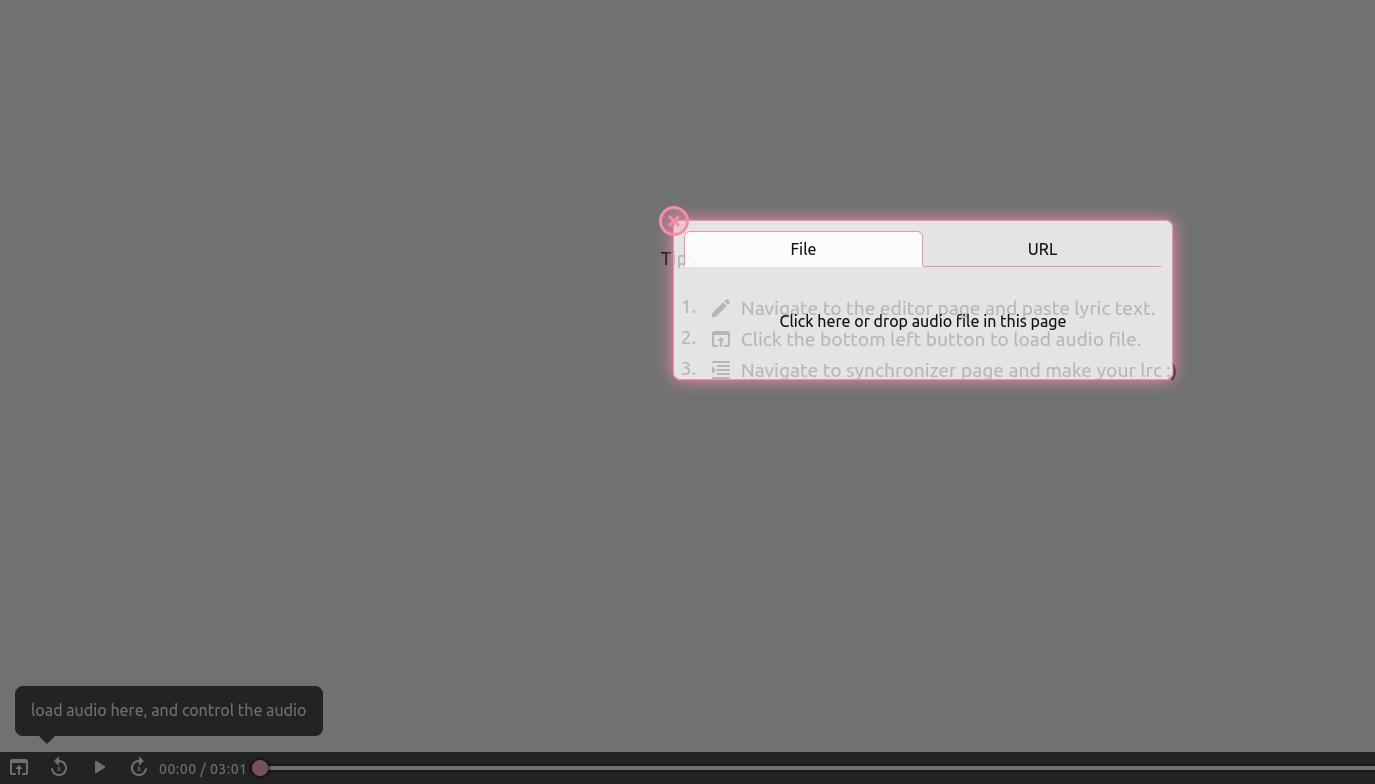 #3 Synchronize Audio & Lyrics
So this was the part I was dreading the most. I've never thought about audio and video in this way. What we're doing here is creating a file with the lyrics, that we can then merge with an art file or gif. to create a lyric video, if we can figure it out! The file we're making here is called an lrc file — short for lyrics.
lrc file + audio file + art file = lyric video.
Even if this doesn't work out as I'm hoping, these lyric files will also be a nice value add for me to include for our Gumroad subscribers once I get them all done.
This last step takes a second to get the hang of, but once you get it you'll be making lrc files all day. Start playing the track, and prior to when the lyrics on each line are sung hit the space button.
This assigns the time to that line of lyrics ,and will look like the below when it's complete. The time to the left of the arrow is where you are listening to the song and the time next to the lyrics is what will be included in the file: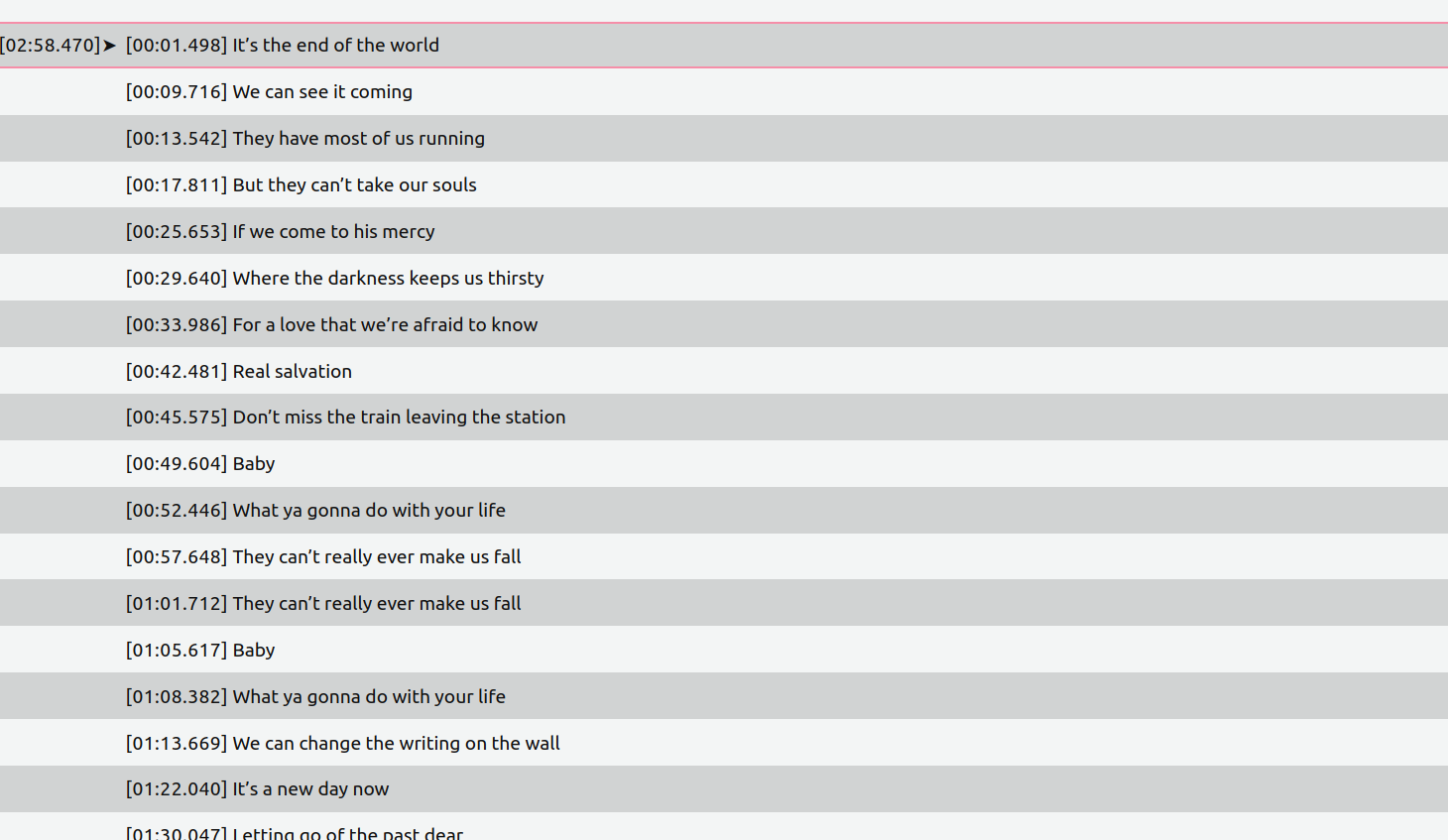 After you're done, if you listen back from the beginning — it will highlight the lyrics in pink as they are played in the song so you can double check your work.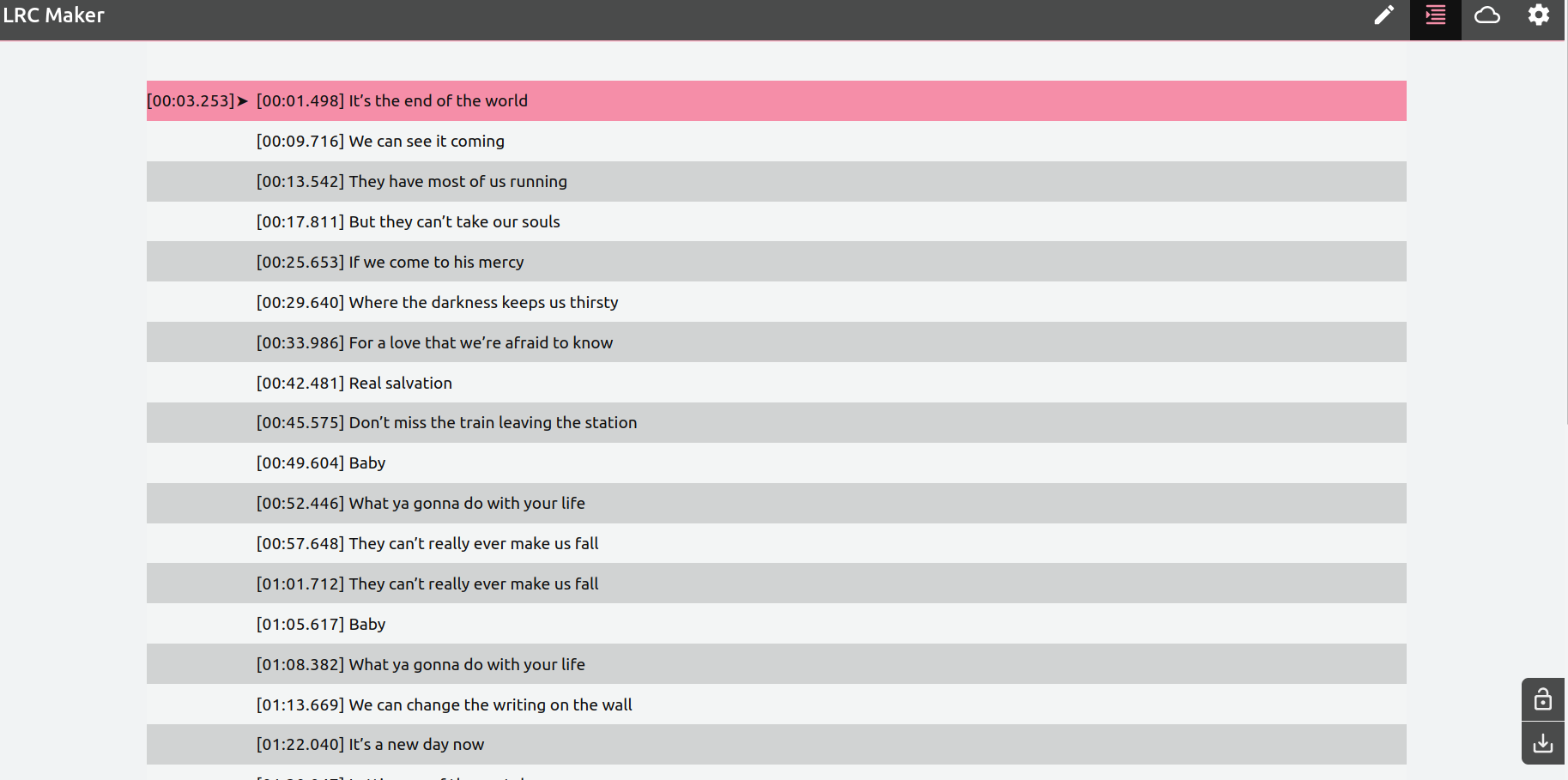 If you notice any errors you can start over, or edit the lyrics in the editor to update. Once this is complete hit the "lock icon" on the bottom right and the "download icon" to download the file.
The result will be a lrc file that looks like this: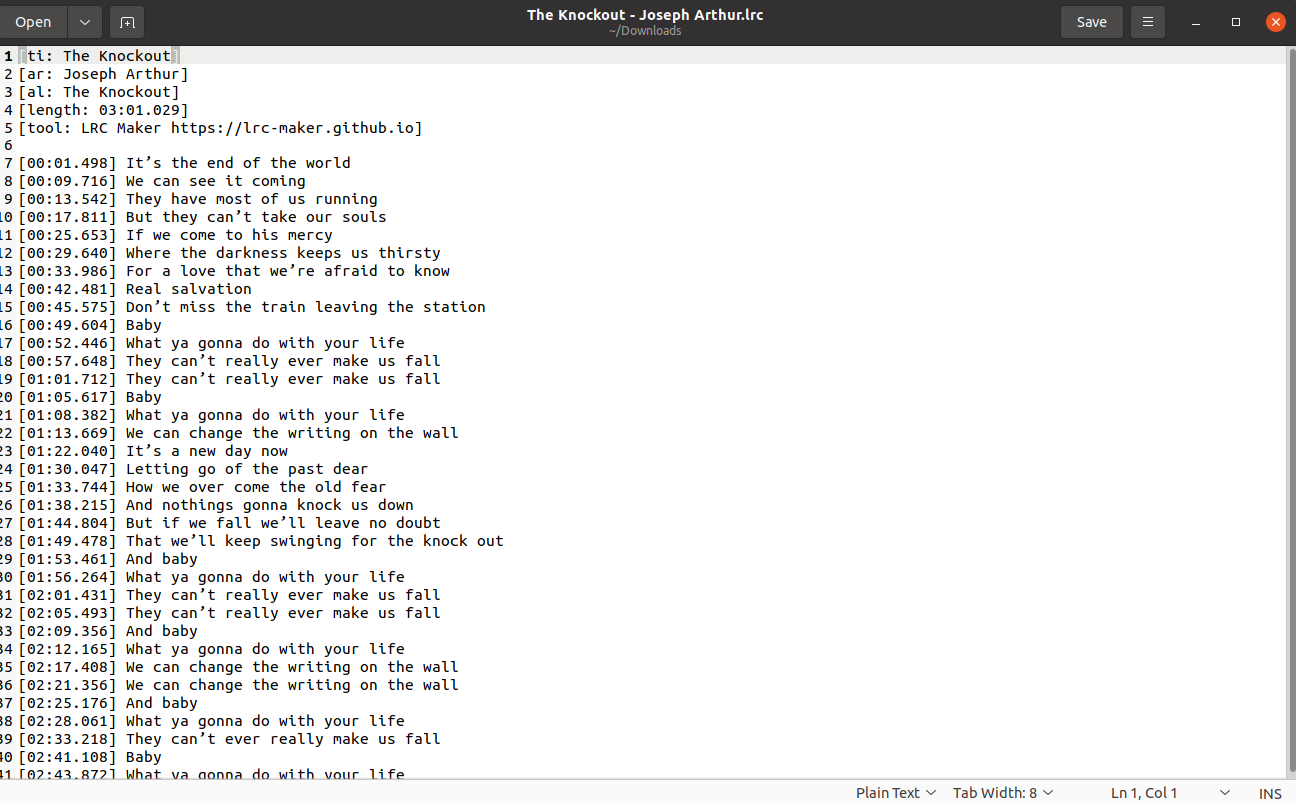 Now what?
The next step will be merging the audio, art and lrc file together for the lyric video. I'm working under the premise I can do this with a command line tool or video editing software. I believe you can also potentially do this with FFmpeg, but I'm still working on this step and will share my progress and the finished product later on next week!