I was eager to share this terrifying "proof-of-health app" I stumbled upon during my regular [depressing] monitoring of indie rock shows that I can't go to.
Since I've simply been avoiding events with vaccine or testing requirements, I only recently found this on the Brooklyn Bowl Nashville website:
We recommend uploading your vaccination card or negative COVID test information to the Bindle app — available for free on the Apple App Store or Google Play Store. This is a secure and private app that will allow you to quickly display your information, ensuring timely entry into the venue. For more information, visit joinbindle.com.

Pardon my french, but this is creepy as heck.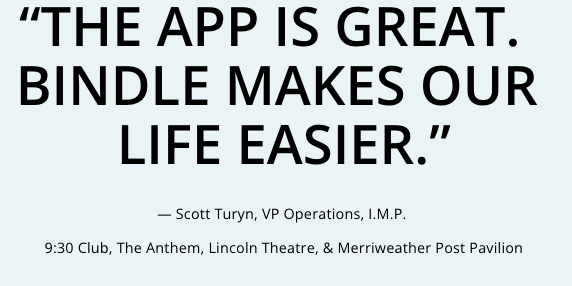 I don't think it made these peoples lives easier though — lets have a look at some reviews:
Donald Moore | February 12, 2022| One Star Review

"I just wasted 2 hours of my life that I'll never get back with this terrible app and we still can't get the pass needed to enter the game. My family and I tried 3 different phones and all of us kept receiving "fail" notifications. This app is 100% horrible. I would give zero stars if that were an option."
Yikes Donald! The worst part about all of this is these apps don't even seem to work well.
It would be evil enough just to convince people it's a cool idea to add their personal health information into a smart phone app in order to go to a Cursive show. Yet, here we are, and these technology big wigs can't even get these apps they're so eager to make part of daily life to be reliable.
Then there's all these obvious logistical issues of relying on smartphones to enter certain establishments. What if your phone dies? What if your phone breaks? What if you're drunk and you lost your phone? What if you left your phone at home because you're growing concerned about your privacy or mental and emotional well-being? WHAT IF YOU DON'T HAVE A SMART PHONE BECAUSE THEY'RE EXPENSIVE AND ALSO STUPID?
Who knows. I reckon we'll find out. This rant applies to all apps for parking and QR code menu's. I sincerely think we're going to regret integrating computers into every single aspect of modern life in the name of safety and simplicity.