[012] Amplifying Dissent with Jeremy Ferrick
Jeremy Ferrick is a California based singer songwriter who shared his experiences performing live under the current restrictions.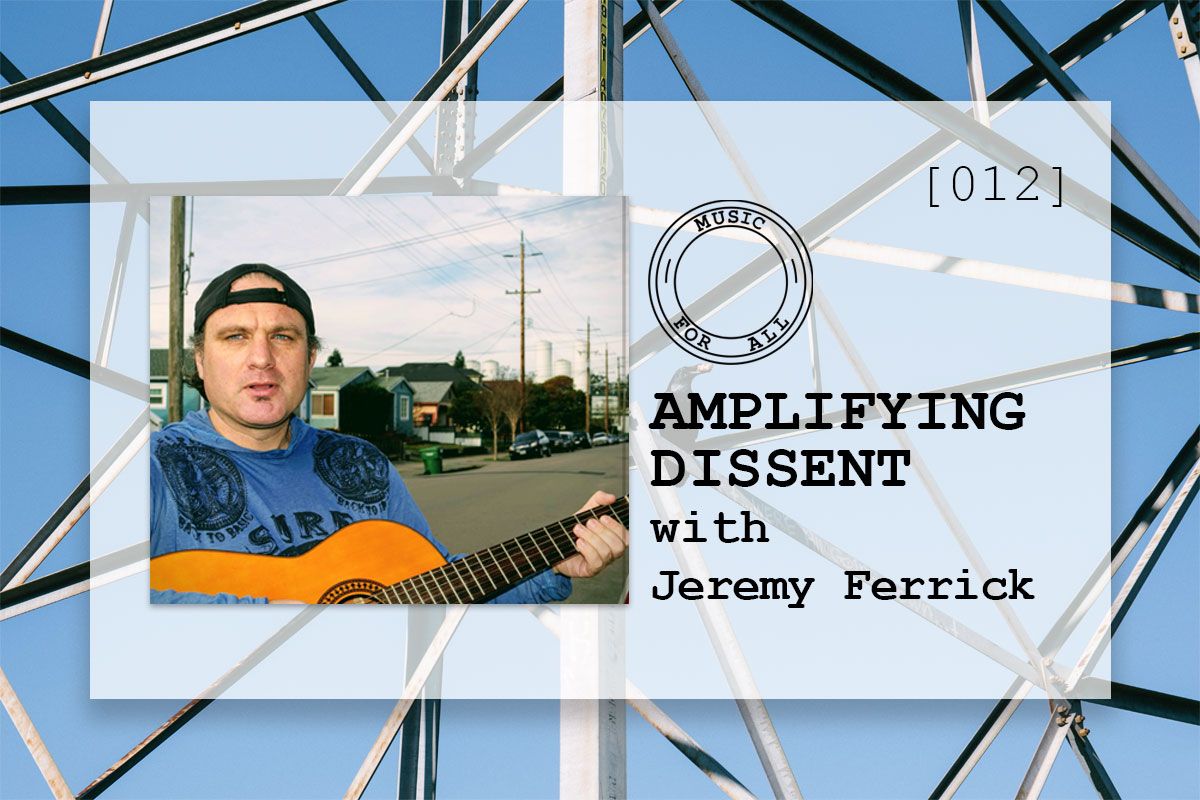 Jeremy Ferrick is an American Singer/Songwriter based in Los Angeles &  Santa Rosa, California.
A lover of life, explorer and teller of tales, his unique approach to music is both authentic and reflective of the wandering life. Jeremy gained inspiration from the likes of Ariel Pink, Bob Dylan, Janes Addiction — and the resulting sound is post-punk grunge folk with the thoughtful singer/songwriter stylings of artists like The Clash and Echo &  the Bunnymen.
In addition to his solo recordings, Jeremy also performs with a revolving lineup under the name Buffalo Traffic.
Music For All: What has your experience been playing live the past two years?

Jeremy Ferrick: One thing I realized after playing my songs acoustic on zoom for people, is that I want to go out and play more with just me and my guitar — although I also love playing in a band.
A drummer friend of mine and I had rehearsal where we played exclusively for a friend of mine a half a year into the pandemic. She was grateful and said it was her first time hearing live music in a while.
Because a lot of places were closed, I busked and even played in rest stops etc. like in Austin, Texas and Jacksonville, Florida.
On a road trip in April of 2021, I played a songwriter circle in Nashville, Tennessee at the Commodore Grille and a Meraki Roasting Co. in Clarksdale, Mississippi.
In June of 2021, I played a gig at Venice Beach at Music Box Microstage — an outdoor music series curated and organized by Billy Stobo. When I played in Venice we got so many compliments, it really has stayed with me. Ironically, before the pandemic we were doing quite a few gigs in and around Los Angeles.
Here in Washington, I've been jamming with my twin brother who plays bass — because of mandates where I am, me and my brother jam a lot in a warehouse.

I don't want to play any places with mandates. That's not what music is about. I'm anti-mandate and pro-freedom, and don't judge others political opinions.
I think discouraging live performance will have devastating consequences for music — but also the past two years has been an opportunity to learn new skills or focus. What has your experience been?

I've had more time to work on writing songs and travel since I was laid off from my job — even though I always have a lot of ideas, you need time to sort through everything.
I think things happen for a reason, looking forward to play live again soon!

This interview is part of a series discussing mandates, restrictions and censorship with musicians and music fans —read more of these interviews here.
---
Thank you for reading! Listen to music by Jeremy Ferrick below:
Listen to Jeremy's project Buffalo Traffic: