[004] Amplifying Dissent with Dan Hagen
Dan Hagen is a Nashville musician fighting and against mandates.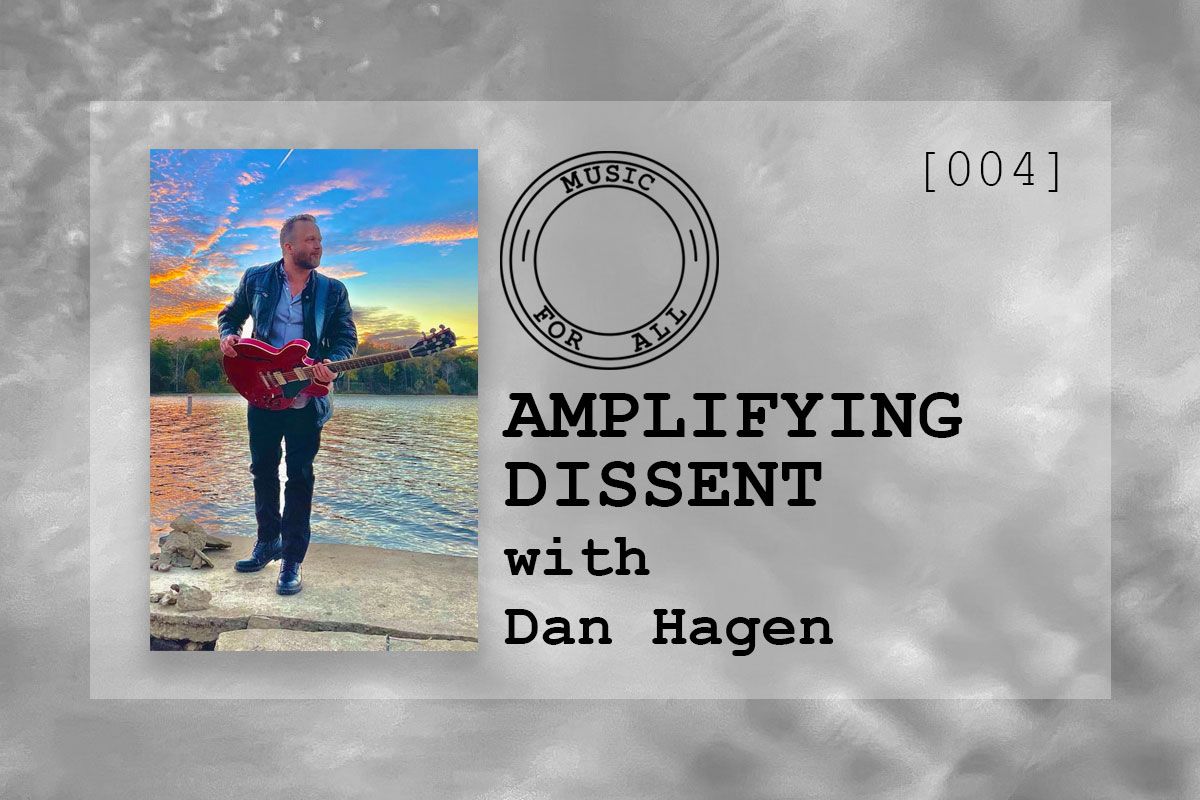 Dan Hagen is an activist, producer, writer, guitarist and founder of Music City Revival.
He has produced award winning jingles and arranged music for several reality shows. Dan also hosts the Music City Revival podcast and he'll be releasing his next single, "Fall Into You" on 2/14/22.
Music For All: What advice would you give musicians trying to play shows or self release music independently?
Dan Hagen: Start your own publishing company, label, business plan, marketing plan, book yourself. Create your own scene, create your own sound, don't try to fit in, be bold, be disciplined, assertive, persistent.  
Do everything yourself while hiring freelance specialists to do what you lack in skills and when you become too busy and are making enough money, hire people and expand your team. Never cut corners on the quality of your recording, even when the competition is making low quality recordings. It matters. Work with professionals with great gear and the best musicians possible that work in the studio regularly. Your career will never get above the quality of your recordings. Use contracts whenever possible and always demand the highest pay possible.
It's been great seeing libertarian & conservative leaning musicians standing up against mandates — but quite depressing to see the lack of these principals in punk and experimental circles that were traditionally anti-establishment. Do you have any ideas about how to best reach individuals in these spaces?
What I've learned as an activist for many years, is the best we can do is become the best example of what we want to promote, to live as freely and fearlessly as possible.
That's the punk and rebellious nature that inspired many of us to make music. Become extremely prosperous and happy and help other upcoming acts. The rest will follow our lead. The truth has stronger teeth everyday, as does the credibility of those that speak it. Attach your music to a cause greater than you. For me, that is freedom.
I've created my own networks and scene and it's working well for me. That's really the best I can do for anyone, is do it myself, pave new trails, be bold, inspire and show the way.
Are you familiar with any booking agents or promoters that musicians could look to for help planning mandate free tours?
Yes, look in the mirror. Make it happen for yourself. I don't know anyone that has figured it all out. It's extremely complicated as many cities have major established venues that have vaccine mandates making it very difficult to navigate a tour especially when half the band has one ideology and the rest another.
I've seen many band folds, break up or stop touring because it's difficult. My best advice is to use social media, engage your fans, create your Street Team and let them do the ground work and find the venues you can perform at (including house concerts), help you to find warm beds to sleep in and fans pads to crash at to save money.
Never underestimate the knowledge and connections of your fans and their ability to get involved and help you make things happen. Get them involved. Talk to them. They want to help you.
Another thought is to align and create tours with artists and bands that are like minded and seem to have already figured much of this out. Find out through them who the booking contact is and their info and add value to their lives and careers so they have an interest in sharing that info with you. Create a whole tour of awakened acts.
Start locally, build something local where it is more economical to play shows and then expand as you can afford to. Use the videos and photos from local shows as hype for promo materials to book a tour. Only go out on tour in the beginning to regions where you can come back within 2 months so you can build an audience and they don't forget about you. Slowly start branching out to new regions.
Be strategic in your touring and always try to hook up an interview on a local TV station, radio station or podcast to promote the show and your music and get your music in rotation. Get merchandise, cds, vinyl in a local music store if they have one. Have a mailing list and get emails and contact info to market your new recordings, merch, and future tours to your fans.
Are you planning any upcoming events for Music City Revival in 2022?
In the Spring, I'm looking forward to launching my backyard house concert series called "Majestic Amphitheater Concert Series". We'll livestream it. Besides that, booking shows and working on piecing together a Florida tour for the Spring. Also, looking to gain sponsors for the podcast to expand our vision.
Really excited about recording more podcast episodes for Music City Revival. I was happy to learn we're dangerously close to breaking the top 100 for Music Podcasts on Apple.
I'm releasing 5 singles on my Music City Revival Label in early 2022:
Amy Pfeffer "The Great Awakening"
A super funky freedom/ liberty song. It's our standing in solidarity with the millions around the world protesting their government's authoritarian lockdowns and restrictions based on total control in the guise of "health and safety".
Kristy Skinner "Bond Girl"
A Retro British 60's Spy Pop tune based on the movie and character for artist.
Kristy Skinner "My Next Ex"
Danny Salazar"Larimar"
A very talented artist — something like Jack Johnson meets Marvin Gaye backed by The Gipsy Kings.
Dan Hagen "Fall into You"
I'm releasing this single on February 14, 2022, Valentines Day. It's a soul love song about a very special person in my life. It's got some real sexy guitars and lyrics. Most all I'm producing is recorded at the natural tuning of 432HZ.

This interview is part of a series discussing mandates, restrictions and censorship with musicians and music fans —read more of these interviews here.
---
Thank you for reading!
Listen to Dan Hagen's excellent recent interview about the current state of music with the great Tom Woods here: