[025] Amplifying Dissent with Cambel McLaughlin of Jam for Freedom
Cambel McLaughlin of Jam for Freedom shares his incredibly wholesome and uplifting story of spreading happiness and inspiration with live music.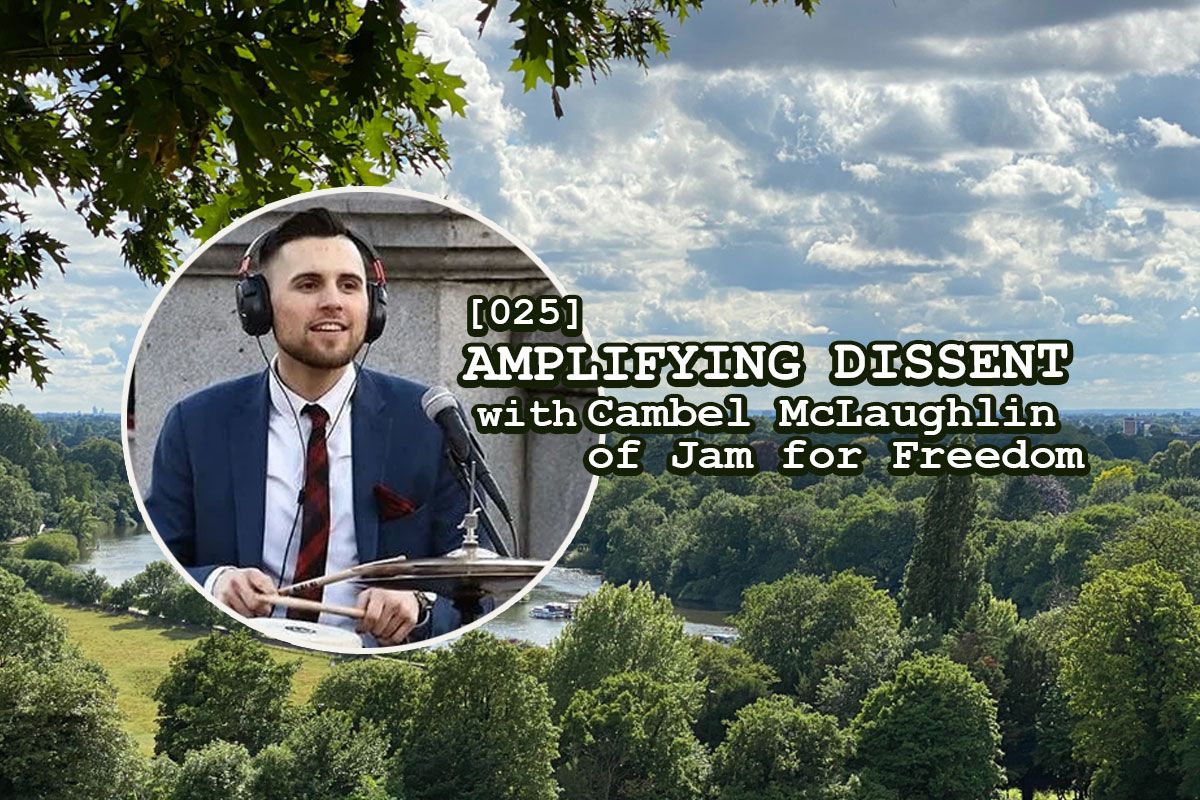 This interview is part of a series discussing mandates, restrictions and censorship with musicians and music fans—read more of these interviews here.
Cambel McLaughlin is a London based drummer, singer and founder of Jam for Freedom, a non-profit defending the art of live music.
Cambel started Jam for Freedom December 20th, 2020 as a response to government measures. Since then they've continued to book outdoor music performances in 12 different countries with 15 chapters.
You can donate here:
Music For All: I found out about y'all after watching the Eric Clapton "This Has Gotta Stop" music video, and noticed the Jam for Freedom reference. How did you all come to start collaborating with him?

Cambel: We're in the lockdowns of 2021 and its April 24th. Eric Clapton is watching the live-stream of a the pro-freedom rally taking place in London. A few hundred thousand of us are marching to spread truth and I announce that Jam for Freedom will be performing at the end of the rally in Hyde Park to celebrate.
There are a few thousand of us jamming out to rock and roll classics all afternoon, passing the mic around to singers and guitars to the talent that has come down. Out of nowhere police attempt to barge in, pushing over people and in turn damaging equipment. The jam ends abruptly as the musicians quickly escape with our equipment before the riot police march on through to arrest who ever has not left the park.
These types of situations ended up being a staple part of JFF during 2021  — lots of police, often riot police and riot vans descending on our shows to stop people gathering, arrests and the threat of arrest. Eric saw this and helped us get some new equipment with a donation. I didn't even check the donation page for a few days so I thought it was spam or fake, but I emailed him and he text me back and then we had a conversation and I couldn't believe it. It was such a moral and mental boost as I felt like no-one else in the music industry had my back. I assembled a group of musicians and we toured around England playing about 3 shows a week as the UK's only touring jam with the help Eric had given us.

Shorty after this high-intensity tour of the UK in May, I had an accident with my car and it was written off. I text Eric about this and asked if he could help. The next day he texted back and offered to lend me his families VW van so we could get around. So I went to his studio to pick it up in London and met him for the first time, it felt really bizarre, because I have no family in the music industry and I'm just a regular, hungry, ambitious 26-year old that had his dream of making it in the industry shattered because of lockdowns. So I felt like this was a big moment to spend time with someone and be appreciated by a musician that has been an integral part of the rock and roll scene I was inspired by.
Eric kept watching and enjoying our live streams as we jammed across the country and surprised me by featuring us in his video 'This Has Gotta Stop" which has now been viewed and listened to many millions of times. Because of that mention, we now have JFF chapters across 4 continents, helping to unite musicians that believe in freedom and want to spread truth at the same time. Eric still supports us and its great to see him touring and doing his thing again!
I had a severe injury during the Fall & Winter of 2019 and the first show I had attended in months was Destroyer in March of 2020 — I became super emotional at the show because live music had always been such a huge part of my life, and being without it the past 6 months had been devastating. I was so happy to finally be feeling well enough to attend a concert again — then the lockdowns started. I know most musicians inherently understand the importance of live performance and music, but was there a particular moment that sticks with you where you truly saw how crucial it was to well-being?

Wow, that's quite profound. I've had spiritual and out-of-body experiences often when I'm performing or listening to music so I can imagine the impact of finally seeing music again. That's beautiful. For me my music performance is tied to my ambitions to succeed, meet others and experience life, which in effect contributes to a healthy mental state.
When the corrupt governments scared the UK population into a self-imposed house arrest in summer 2020, I went out with my drums and a speaker to play music in a local park as a busker on my own. Lots of locals loved it and came out of their houses to join in the fun. I then had the inspiration to bring other musicians alongside me and created an open jam event to that same park. I called this the 'Outside Jam' and we brought our concept to parks around London to help spread live music and give the musicians a small wage from the donations people gave us.
Musicians had been out of work that whole summer and for them it was their only pay cheque apart from government handouts. A lot of people told me about how their mental health had improved. Parents loved it too, and so did the children. We did 22 shows during the summer of 2020, which was a show every week consistently.

When I started to research more about the new world tyranny all the dominoes fell and I started to contact musicians I knew to let them know what was going on, including medical professionals who had played with the Outside Jam, and even friends and family. They didn't seem to get what was going on. I kept going with the Outside Jam and we even brought our concept up to central London, playing in Leicester Square and Trafalgar Square, which were previously the busiest part of Europe. They were almost empty, with small crowds coming in from the pubs and bars after the curfew of 10PM. I can't believe that all happened.
Crowds eventually started to disappear as restaurants kept getting closed due to new restrictions and all tourism ceased. We even made a a small documentary about the struggles street musicians had been through and Van Morrisons "No More Lockdowns" song was featured as one of the songs in the background, which ended up being quite ironic as he ended up becoming one of our supporters. You can find that here:
In December 3rd 2020 the second lockdown was announced and at the click of a finger  ALL businesses were given one days notice to close up if they were deemed 'non-essential'. I instantly knew this was unacceptable and I put a call-out for musicians to join in with a special version of the Outside Jam, named 'Jam for Freedom'.
I had 4 musicians get in touch to join in and when we got to Hampstead Heath park in London to perform with our speakers and drums I had lugged up, only one of them decided they would join in — a Brazilian migrant to the UK, named Felipe Amori, on drums. We've then gone on to host over 200 shows across 15 international chapters, with stars such as Eric Clapton, Van Morrsion, Right Said Fred and a host of incredibly talented musicians joining our jams and supporting us.
Our community is incredible and we hope that we can help heal mental health as well as inspire, educate and provide a welcoming and fun community for all.

What is the best way for someone to get involved with hosting an event or performing with Jam for Freedom?

We host JFF events and have a contact form to get involved here:
It's a great way for like-minded people to get together and we'll promote your jams and help connect you with jammers in your area.
We also have a membership scheme, merchandise and the option to donate too which is integral in helping me keep it alive, as it becomes a full-time job to get everyone together, perform and manage all that comes with that. So please do become a member and support us!

What has been the most rewarding aspect of organizing these events in your experience?

I feel very grateful to have been on this journey and its been totally unique. No other musicians in the UK put on a weekly outdoor jam event during summer 2020, or even set up a tour during 2021 during the restrictions and lockdowns. I've stayed in spare rooms, sofas and been on a simply unforgettable journey alongside some incredibly brave musicians and supporters.
I feel as if I've been through a small scale war; a series of battles across the land, where music, truth and harmony has been the unstoppable weapon. I would say the best reward from this all is that it has taught me how to be a man, a leader and to take risks in order to succeed. I feel I have learnt and been exposed to ideas and philosophies from all works of life and seen the desire for freedom and the passion for life shine from the eyes of so many. I want to say a huge thank you to everyone that supports and enjoys our events across the world. May they long continue and be part of the positive change the music industry and society needs.
---
Thank you for reading!